About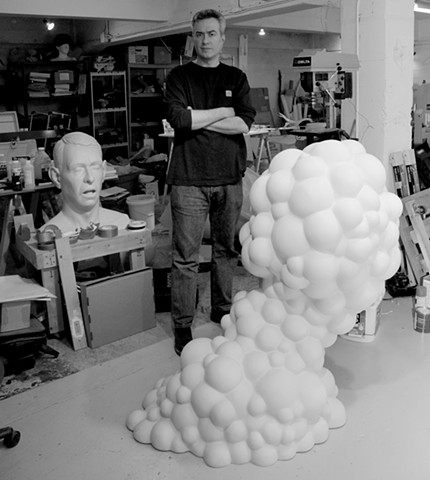 Erik Geschke is a mixed-media artist who has exhibited both nationally and internationally. Venues include the UCLA Hammer Museum of Art in Los Angeles, CA; ZieherSmith Gallery and Knoedler & Company in New York, NY; The Navy Pier in Chicago, IL; The Aldrich Contemporary Art Museum in Aldrich, CT; Vox Populi in Philadelphia, PA; Seattle Art Museum's SAM Gallery, Center on Contemporary Art, Francine Seders Gallery and Howard House Contemporary Art in Seattle, WA; Tacoma Art Museum in Tacoma, WA; Museum of Fine Arts, Florida State University in Tallahassee, FL; Jones Center for Contemporary Art in Austin, TX; Pacific Northwest College of Art and Disjecta Contemporary Art Center in Portland, OR; FIAC Contemporary Art Fair in Paris, France and Zaum Projects in Lisbon, Portugal. In addition, his work has been written about and featured in publications such as Sculpture, New American Paintings, NY Arts Magazine, Philadelphia Weekly, The Seattle Times and The Oregonian.
Geschke has received awards, grants and fellowships from the Seattle Art Museum (Betty Bowen PONCHO Special Recognition Award); Seattle Arts Commission (Seattle Artists Award); Oregon Arts Commission (Individual Artists Fellowship and Career Opportunity Grant); Ford Family Foundation (Oregon Artists as the Djerassi Resident Artist Program); Regional Arts and Culture Council (Professional Development Grant); Jerome Foundation (Travel and Study Grant to China); College Art Association; Skowhegan School of Painting and Sculpture; Sculpture Space Inc. and the Vermont Studio Center, among others.
Geschke received his M.F.A. from the Maryland Institute College of Art's Rinehart School of Sculpture in 2001, attended the Skowhegan School of Painting and Sculpture in 1996, and received a B.F.A. from Cornish College of the Arts in 1993. He is a Professor of Art and coordinator of the sculpture area at Portland State University. Prior to Portland State, Erik taught at the University of Minnesota, Twin Cities and California State University, Long Beach.